Welcome


Center for Information Technologies
TELECONFERENCING
CIT is official University center and provider for development and application of e-learning and teleconferencing.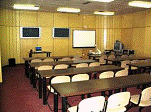 TELECONFERENCING CLASSROOMS
Teleconferencing is a very useful technology for telemedicine applications, such as diagnosis, consulting, transmission of medical images, etc., in real time.
Videoconferencing can enable individuals in faraway places to have meetings on short notice. Technology such as VOIP can be used in conjunction with desktop videoconferencing to enable face-to-face business meetings without leaving the desktop. CIT's activities are in close connection to spread teleconferencing and DL technology to University and broader.
In teaching or research, it can be used to "bring in" external speakers from anywhere in the world, offering the chance to ask questions and join in a discussion. The increasing availability of videoconferencing equipment makes it highly likely that speaker can find a nearby studio (or even a webcam). For research and administration, it can facilitate collaborative project management, replacing hours of travel and inconvenience. Working through videoconferencing may seem unusual at first, but it soon becomes more natural and can enable highly effective "meetings". It can be used in personnel interviews, oral examinations, quality reviews and international collaboration.
Teleconferencing classroom at the University of Kragujevac, can host multipoint conference (more than two participating sides). With applied Polycom technology, educators can enhance teaching and learning, connect homes with schools and schools with the outside world, make the business of education more efficient, overcome the barriers of distance and disability and more. Polycom educational solutions promote successful collaboration and learning by providing a completely interactive classroom experience through instant access to rich content and very natural, easy-to-use, instructional tools, and published manuals for teachers at participating consortium members.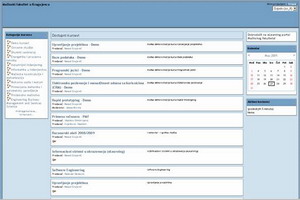 DISTANCE LEARNING SYSTEM
CIT has been also managing distance learning system at FMEKG, also known as Virtual learning environment (VLE). It is a computer program that facilitates computerised learning or e-learning, that is, education via computer-mediated communication (CMC) or Online Education. CIT ported several courses to Moodle platform, the most popular Open source solution for VLE.
VLE e-learning systems are sometimes also called Learning Management System (LMS), Course Management System (CMS), Managed Learning Environment (MLE), Learning Support System (LSS) or Learning Platform (LP), it is education via computer-mediated communication (CMC) or Online Education. A VLE should make it possible for a course designer to present to students, through a single, consistent, and intuitive interface, all the components required for a course of education or training. Although logically it is not a requirement, in practice VLEs always make extensive use of computers and the Internet. A VLE should implement all the following elements: the syllabus for the course, administrative information including the location of sessions, details of pre-requisites and co-requisites, credit information, and how to get help, a noticeboard for up-to-date course information, student registration and tracking facilities, if necessary with payment options, basic teaching materials, additional resources, including reading materials, and links to outside resources in libraries and on the Internet, self-assessment quizzes which can be scored automatically, formal assessment procedures, electronic communication support including e-mail, threaded discussions and a chat room, with or without a moderator, production of documents and statistics on the course in the format required for institutional administration and quality control.
Any help will be given to teachers that want to make VLE version of teaching materials.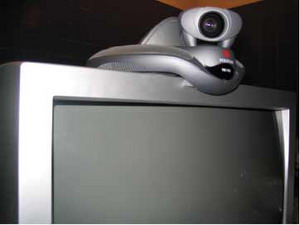 Teleconferencing equipment at CIT
Important equipment located at CIT is state-of-the-art teleconferencing equipment, such as Polycom VSX 7000 unit, capable of ISDN and IP multipoint video conferencing, plasma displays, video projectors, digital whiteboard, video presenter, system rack with audio and video equipment, wireless microphones, and additional PTZ camera. This equipment provides high quality video conferencing, both over ISDN and IP, and it can be used for including lecturers or audience from distant locations in training program.
Implementation of a number of training events for existing and also potential videoconferencing users, already provided a brief overview of the system and proved how easy it is to make a videoconference call. For any new users, we will endeavour to help start up conference connection for you and will also run test connections with external sites. It is our aim to make the system as straightforward to use as possible. If you require any more information or have special requests for particular events, please contact CIT.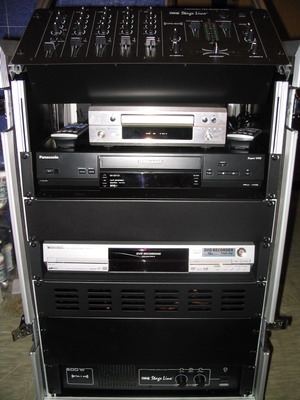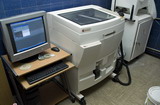 High-tech rapid prototyping system
ZCorporation ZPrinter 310 RP System based on 3D printing technology. This system is capable of producing prototypes with dimensions up to 200x200x250 mm. Even the most complex parts are made within couple of hours, and smaller parts within minutes. Applications of such prototypes are numerous, from design verification, through functional testing, to unique capability of pouring metal directly in moulds produced with this system. It can provide virtual and real 3D GIS models as well as rapid prototyping, rapid tooling and reengineering of devices for use in hydro-informatics systems.

Activities of the Center
Research and development in the area of information technologies, engineering software and designing and implementation of computer operated systems, especially in area of information systems building and hydroinformatics.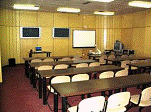 Educational activities
Organizing of educational activities in the spheres of information technologies, engineering software and designing and implementation of computer operated systems. Publication activities (printed materials, electronic multimedia releases - CD, DVD, internet and eLearning contents).

Cooperation
Research conducted at the University of Kragujevac in collaboration with world renowned institutions such as: M.I.T., the Technical University of Athens, the Imperial College, Harvard University, the Hong Kong Polytechnic University, Nanyang Technological University Singapore, and in conjunction with domestic and foreign industry.
Address: S.Janjic 6,
34000 Kragujevac, Serbia
Tel/Fax: +381 34 304710
E-mail: gruja@kg.ac.rs