Welcome


Center for Information Technologies
Winners of IMAGINE CUP 2009 Serbia competition
CIT Students' team Brainwave led by Professor Grujovic won the local IMAGINE CUP 2009 Serbia Competition with their project "People to People Economy" in Software Design Category. They will represent Serbia at 2009 Worldwide Finals that will be held in Cairo, Egypt from July 3-7, 2009.
In 2009, the Imagine Cup challenges the world's most talented students to "Imagine a world where technology helps solve the toughest problems facing us today". The United Nations has identified some of the hardest challenges in the world today in its Millennium Goals. This year the Imagine Cup uses these ambitious challenges as a guiding light to inspire change all over the world.
The Software Design competition challenges students to explore their own creativity by using technology to solve what they consider to be the toughest problems facing our global society. The Imagine Cup provides the incentive, but the competitors provide the genius behind innovative, dynamic, and powerful software applications. Using Microsoft tools and technology, competitors unleash their ideas, curiosities, and talents towards creating usable software applications.
Local Final of Imagine Cup 2009 was held at Palace of Serbia, Belgrade on May, 21st 2009. Four IT students' teams from University of Kragujevac, University of Belgrade and University of Novi Sad competed in Software Design Category.
Brainwave team comprised of students from Faculty of Mechanical Engineering and Faculty of Philology and Arts in Kragujevac won THE FIRST PRIZE and they will represent Serbia at 2009 Worldwide Finals in Egypt.
For nine categories of this years Imagine Cup Competition 663 participants from Serbia had applied. Ceremony of Local Final in Belgrade was opened by Snezana Samardzic Markovic, Minister of Youth and Sports in Government of Serbia, together with Vladan Zivkovic, CEO Microsoft Serbia, Zoran Subic, Managing Director of Academic Programs, Microsoft Serbia and Vladimir Lucic, Managing Director of Commercial Jobs, Telekom Serbia.

Activities of the Center
Research and development in the area of information technologies, engineering software and designing and implementation of computer operated systems, especially in area of information systems building and hydroinformatics.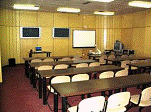 Educational activities
Organizing of educational activities in the spheres of information technologies, engineering software and designing and implementation of computer operated systems. Publication activities (printed materials, electronic multimedia releases - CD, DVD, internet and eLearning contents).

Cooperation
Research conducted at the University of Kragujevac in collaboration with world renowned institutions such as: M.I.T., the Technical University of Athens, the Imperial College, Harvard University, the Hong Kong Polytechnic University, Nanyang Technological University Singapore, and in conjunction with domestic and foreign industry.
Address: S.Janjic 6,
34000 Kragujevac, Serbia
Tel/Fax: +381 34 304710
E-mail: gruja@kg.ac.rs